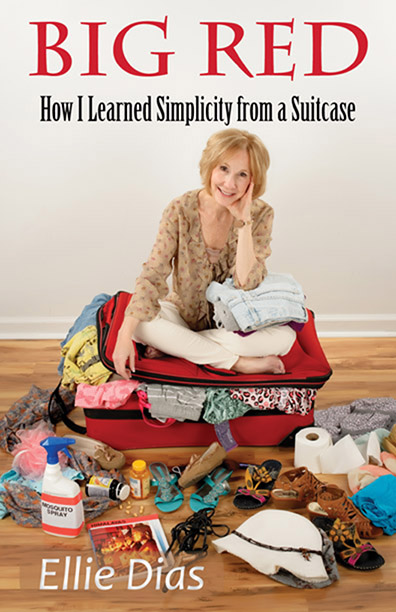 FREE  Kindle Interactive Edition of Big Red: How I Learned Simplicity from a Suitcase. Includes color illustrations and videos of my experiences with the Himalayan people and their venerable cultures.
August 13th – August 14th Pacific Coast Time
 Five star ratings on Amazon:
"This book is such a delight to read! Educational, entertaining, informative and humorous are the first words that come to mind while reading the book AND the afterthought that occurs when an indelible impression has been made.
I recommend this book to all who enjoy reading. Many valuable lessons to be learned from Ellie's experience!"
Dias takes us along on her trip of a lifetime to the three kingdoms of the Himalayas: Bhutan, Nepal, and Tibet. What starts out as a serious, spiritual journey soon dissolves into an often humorous struggle between her desire to live a simpler, happier life, and her strong attachment to her stuff. Throw in every travel nightmare you can imagine from lost luggage to missed flights and foreign bathrooms or lack thereof, and you have a book you might call Eat, Pray, Laugh.
"Big Red is a book full of laughter filled with self-deprecating humor. Yet, softly and very quietly, Ellie weaves into her chaotic adventure, deep and profound human truths. A highly recommended book."
"This book is an absolute must for any type of reader. Be careful, it will make you laugh out loud!" 
Down load now @:
https://www.amazon.com/Big-Red-Learned-Simplicity-Suitcase-ebook/dp/B071DPSB6C/