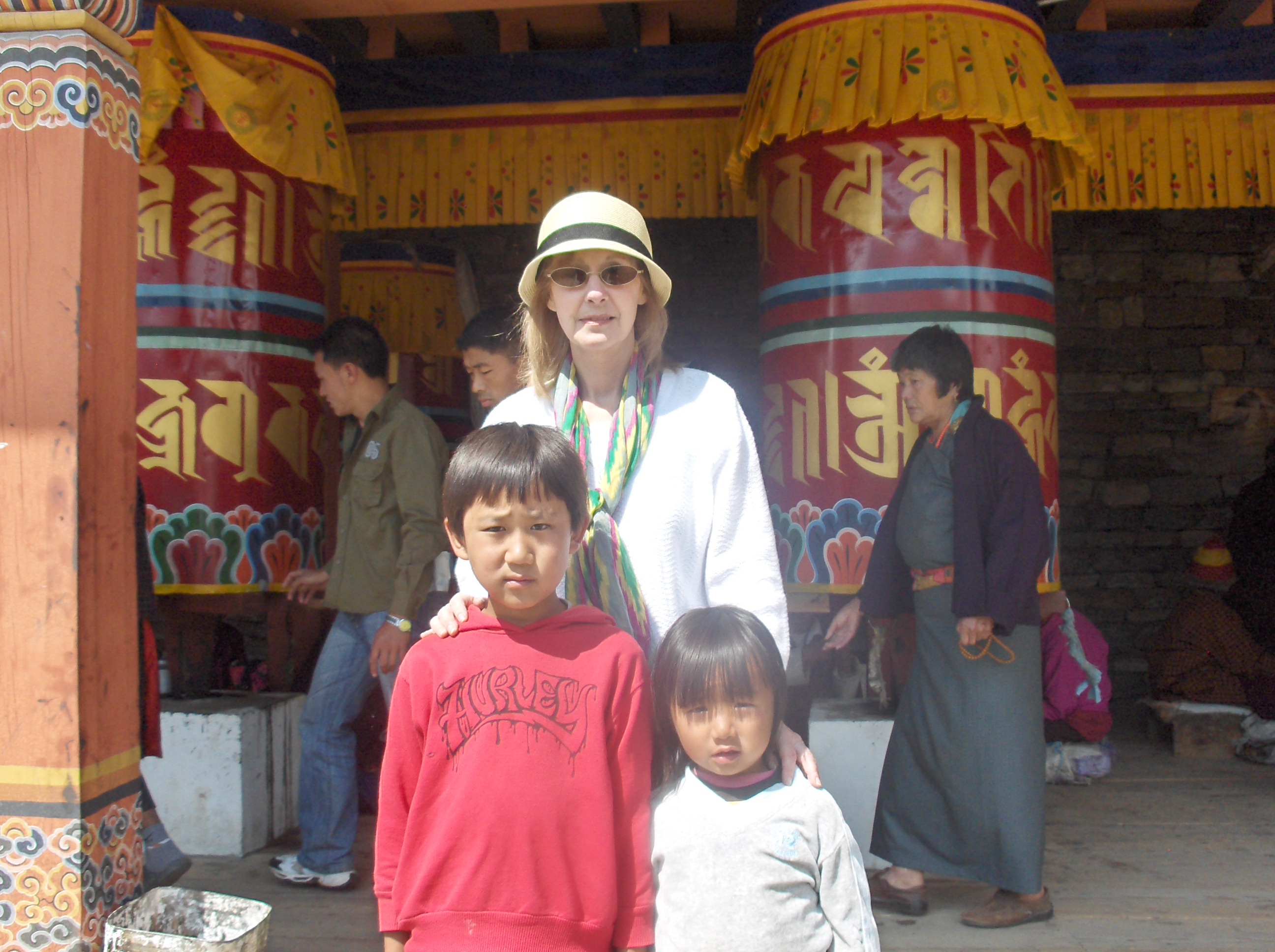 CHAPTER 7… excerpt!
When people plan trips, their course is usually more or less on target. Not mine. Despite being a manic perfectionist, and one of the best planners in the world, my travel adventure—my thirty-year dream—was more than a journey. A trip in the broadest sense of the word, it plays out like a crazy drama.
If someone had told me months earlier that I would be buying underwear at midnight, on the other side of the world, with a strange man who barely speaks English, I would have laughed in their face.
May 6, Orchid Sheraton Hotel and tower, Bangkok
It's time for the next round of "Ellie's Not So Excellent Adventure." I've stopped calling it the trip of a lifetime.
I arrive in Bangkok around 11 P.M. Thankfully, I'm alert enough to see the sign with my name on it as soon as I get off the plane. A lovely young girl named Apple (yep, even in Bangkok) helps me through immigration. Since I'm not coughing or sneezing, I easily pass the swine flu check-point. I must tell you that the swine flu was an unwelcome addition to my trip. In every terminal, giant maps highlight the locations of current swine flu outbreaks—essentially everywhere I'm headed. Screeching to a halt whenever someone near me coughs or sneezes, I'm too paranoid to blow my nose in public for fear I might be detained indefinitely.
Good news: Apple informs me that Big Red, has been found. Bad news: it was still somewhere in Germany. Good news: it will arrive in Bhutan, followed by the bad news that it will not get there until the eighth, maybe. Sarcastically I ask if it is coming by yak.
They give me one hundred dollars in Bangkok money for essentials, and I can only think of one thing. Underwear. It is almost midnight, so nothing in the airport is open. There's a distinct possibility that I will be wearing these clothes for at least two more days—a reminder of the wasted fashionable and clean clothing still stuffed inside Big Red.
Apple introduces me to my guide, and informs him of my luggage predicament. I shake his hand and blurt out, "I need underwear!" I couldn't care less about being shy, polite, or politically correct. He shrugs, smiles, and off we go. They sure are good-natured here. Just imagine what the response would be if you said that to a strange man in the US.
Sitting in the back of the van, I can hear my guide and the driver in deep discussion about where they can take me to get underwear at midnight. As we drive around the outskirts of the city, I think again about that "well-stocked day pack," which I do not have. I'm reminded once more of what I do have in my carry-on bag:a plethora of makeup and jewelry, plus just about everything else I don't need. Ahh, my Western mind-set rears its ugly ahead again—too much stuff and never the right stuff.
Nothing is open at this hour, so we head to downtown Bangkok and the Pat Pong night market. The driver drops us off in front of a dark alley that leads to a rather chaotic marketplace. I swear Bangkok's entire population of ten million is here. It's body-to-body crowds shopping, eating at sidewalk vendors, rowdy partying, and over-the-top craziness from the nearby go-go bars. What an assault on the senses. I'm exhausted, and the last place I want to be is this hot, sweaty, noisy place.
I'm known for my need for peace and quiet. I abhor loud noises, especially unexpected ones. I never have the radio or TV on in my home. Even in my car, the radio is off. For a moment, I wish I was back on the plane, nestled under a warm blanket, soothed by wine and Xanax: but this is no time for wishing. I am on a mission to find underwear so I can begin my journey to the three kingdoms of the Himalayas. I want to leave the deafening noise behind and replace it with the silence of Buddhist temples. Little do I know I'm in for a big surprise.
Keep in mind that my guide is the person who was supposed to show me the Grand Palace. Instead, he is weaving me in and out of little market stands looking for underwear. Not long into our shopping excursion, I find some. I grab the first size small I see. Small, clean, and white will do it for me. However, my guide doesn't approve of my selection. He picks a pair of skimpy, colored panties and dangles them in my face. This is a little too personal for comfort. I don't want to hurt his feelings, so I let him select a t-shirt for me to sleep in. I am now the proud owner of a four-dollar Thai national flag t-shirt and three pairs of panties with S.POLITE.COM on the waistband. My first Asian souvenirs!
I still need some toiletries, so we head to a twenty-four-hour supermarket. Wandering the aisles—not one label is in English—I am at the mercy of my guide to pick out what I need. I must admit he does a lot better this time. He hands me a raspberry-smelling deodorant stick, some flavored toothpaste, a pink toothbrush, and pink socks. With each item he chooses he gives me a wide, toothless grin. My travel agent was right—you would be hard pressed to find a dentist around here. My guide wants to continue shopping for me, but I have all the essentials I need for the time being. What more could I want? Well, Big Red would be nice.
So much for the outfits I had packed for each day, along with enough shoes to outfit a family. Again I wonder, who does this, Ellie? adding Ron's, "Do you really need all that stuff?" to my growing mantra list. Is this some underlying message I'm supposed to be getting?
As we walk back to the car, we see a panhandler with a baby elephant on a leash in the midst of all the noise and craziness. This image will forever remind me of all the great sights I have missed: the Grand Palace with its incredible architecture and intricate detail; the highly revered Buddha meticulously carved from a single block of emerald; the floating markets where hundreds of wooden boats crowd the river, each one filled to the brim with farm-fresh fruits, vegetables, and flowers. Oh, how I want to see all this and more. Such a disappointment, all because I didn't hear the page "Will Eleanor Dias please come to the departure gate. We are now boarding." Not just once, but three times.
We finally get to my hotel at 1 A.M. After taking a quick shower, I post to my blog. I decide it isn't worth going to sleep since I'm leaving in an hour for my 6 A.M., four-hour flight to Paro, where "happiness is everywhere." Oh, to be happy again! I pause, gazing out the window at the crystal-clear night and the Chao Phraya River. Called the River of Kings, it is considered the lifeblood of Bangkok. I love how its calm waters reflect the sparkling lights of the temples and glistening skyscrapers. Here I sit in my Thai national t-shirt, musing over the unforeseen events of the last few days. I find it ironic how the barest essentials are getting me through my first days and nights of this adventure after my meticulous plans went so awry. So much for the time and effort I put into packing Red in an attempt to create a perfect trip of a lifetime. I should have spent less time meditating and reading about Buddhism and had some therapy before I left home. Better yet, I should have attended Over-Packers Anonymous.