Traveling with baggage – and suitcase 
By Christine White
Special to The Republican
   Ellie Dias has been a biology professor; a pediatric nurse; a clinician working with babies at risk for SIDS; and a vice president of a women's health care company.
   Now add to that: author. She recently published her first book, "Big Red: How I Learned Simplicity from a Suitcase," published by Buddhapuss Ink LLC, Edison, New Jersey.
   The book is the result of her "trip of a lifetime" to the three Buddhist kingdoms of the Himalayas – Bhutan, Nepal and Tibet – in which much of what could go wrong did, leaving her more introspective and open to the lessons of Buddhism.
   "Perhaps I should have called (my trip) 'the unimaginable, inescapable, improbable trip of self-discovery'," Dias said recently.
   It was that 95-pound red suitcase and all the superfluous things she packed in it – among them 22 coordinated outfits including shoes, 485 vitamins, a half-gallon jug of Permethrin (in case of dengue fever), and rolls and rolls of toilet paper – that served as a metaphor for her inability to let go of her Western ways.
   None of this was evident to her until she returned and reflected on her experience. It was then she realized she had more to learn and much to share in a book, which she does with charm and a sense of humor. It is an engaging story.
   Twenty years ago, books by the Dali Lama and Jon Kabat-Zinn, a Buddhist and professor at the University of Massachusetts Medical School who developed mindfulness- based stress reduction, inspired her study of Buddhism and the daily practice of yoga and meditation. Her trip to the Himalayas was meant to be the culmination of that spiritual journey.
   She intended to travel with a group, but the travel agency went bankrupt in the middle of planning her trip, and she was forced to scramble. Fortunately, another company came to her rescue, but it meant she was traveling alone.
   "Venturing off alone never gave me any pause until I had to navigate so many foreign airports while lugging that big red suitcase," said Dias, adding that she weighs only about 100 pounds.
   Beside her own personal shortcomings, hardest for her to accept were the street children in Nepal begging, digging through trash, and sleeping on street corners. Nevertheless, she was impressed by how Nepal melded the variety of religions there, Buddhists being only 14 percent of the population.
   She was also dismayed by the lack of toilets everywhere she traveled. "I was told to bring lots of 3-ply,"she said, "but before my trip, I never gave the toilet situation a thought. Otherwise, I would have practiced my squatting skills."
   In Tibet, she saw the influence of the Chinese take-over. Altars with photos of the Dali Lama are now kept secret, and fewer young men are becoming monks.
   But Bhutan was revelatory. "Everything in the lives of the Bhutanese – socially and economically – is linked to their spirituality," she explained. "It shapes their attitudes and molds their thoughts. Even their environment is important to them. They believe that every plant, rock and tree is special. … (They) are merit-driven for good results in this life and the next. Throughout the tiny kingdom, whether I was in the marketplace, on the side of the road, on hilltops, or outside temples, I observed the freedom, simplicity, and openness of their spiritual practices and acts of devotion."
   "I enjoyed visiting all three places," she said. "But Bhutan was rich in Buddhism, and so it was my favorite."
   Dias graduated from Chicopee Comprehensive High School, Springfield Technical Institute (now STCC) and Westfield State University where she received both undergraduate and graduate degrees.
   She lives in Wilbraham with her husband, Ron, and her dog, Roxie. They have two children and two grandchildren.
   Her trip was in 2009 and four months after returning, she put pen to paper. Her book was finally published in 2017 and is available through Amazon. She is now working on her second book, a work of fiction. 
  In "Big Red: How I Learned Simplicity from a Suitcase," author Ellie Dias reflects on her initial inability to let go of her Western ways during a trip to the Himalayas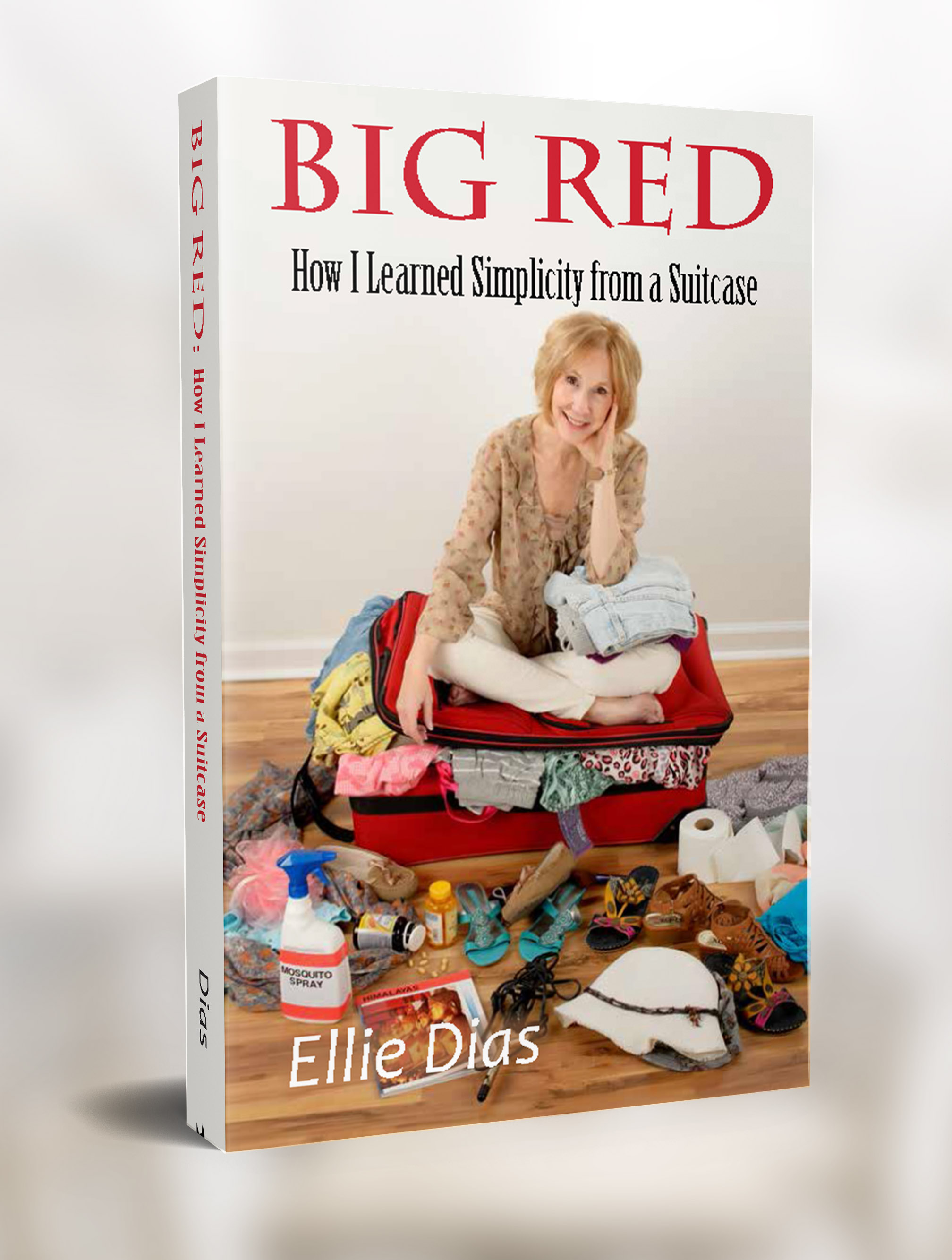 https://www.amazon.com/Big-Red-Learned-Simplicity-Suitcase-ebook/dp/B071DPSB6C
---