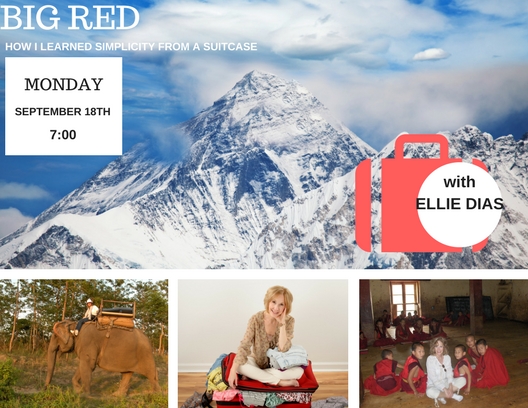 Join Ellie Dias as she discusses her debut novel inspired by a solo journey to the Himalayas.
Seeking to experience simplicity and contentment in the "Happiest Place on Earth", Dias
planned her trip of a lifetime to the to the nth degree. Everything that could go wrong on her
spiritual journey did. It was a fiasco that left her wondering whether the Universe – via her Big
Red suitcase – was trying to teach her something.
In Big Red, she takes a long, hard look at herself, her strengths and weaknesses. She
shares her personal—often turbulent—experiences in religion, her failed first marriage, and
wrenching career decisions, as well as how she allowed her obsessive nature to prevent her
from living life to the fullest. Anyone seeking what really matters in life through the lens of a
smile will love this book.
MONDAY, SEPTEMBER 18th at 7
Agawam Public Library
750 COPPER ST., AGAWAM, MA
Contact: Information Desk 789-1550 x4