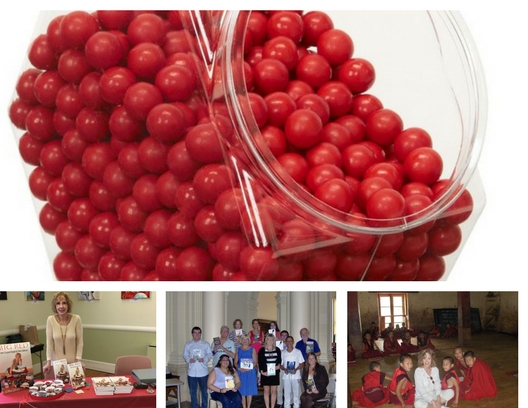 On Saturday, I participated in an Author Fair with eleven talented authors held inside the gorgeous Springfield City Library Rotunda.
I put a lot of thought into my table display to attract attention. A 12×16 poster of Big Red stood front and center surrounded by my books. Colorful Bhutan Himalayan prayer flags lined my bright red table cloth. A "happy" Buddha statue from Tibet snuggled up against the mini hand-held prayer wheel from Nepal.
Although I had my share of visitors, little enthusiasm was shown for my book or my props. The only red they could feast their eyes on were the bright pearl shaped red candies nesting in silver cupcake liners.
As they bit into the red crunchy shells, expecting to be hit by the taste of a Red Hot, there was a range of "oohs and ahhs" when they got the sweet taste of malt chocolate.
I anxiously waited for questions to be asked about Big Red when some of my visitors lingered around the table. Instead my time was not spent answering questions about why I went to Asia or about the traditional cultures of the Himalayan people, but what I could tell them about those bright red candies called Sixlets.  
I am not a connoisseur of Sixlets, but here's what I know:
They're sold in individual colors, plus seasonal mixes (autumn, Christmas, Halloween, etc.).
Depending on the color of the coating each has a slightly different taste.
They're sold loose in plastic containers (1300) or in bags (450).
They also come in cellophane packages that hold eight in a tube-like formation.
Malt is mixed with chocolate which gives them their distinctive chocolate taste. Many claims have been made they taste better than m&m's.
On the internet curiosity abounds about the answer to one important question. Who Put the "Six" in Sixlets?  All I will tell you is the number has nothing to do with the colors.
In case I have peaked your interest, these edible pearls of sweetness are used for party favors, weddings, showers, birthdays, general entertainment and to decorate cookies, cakes, and cupcakes. At the end of this blog are two links with a plethora of ideas on how to decorate with Sixlets. 
I didn't make a dime at the Author Fair, but I was rewarded. I got to see smiling faces and hear firsthand five-star reviews about my prized possession.
On my way home I experienced the pure joy of biting into the candy-coated shells and savoring their rich chocolate. This reminded of an important lesson I learned from Big Red. The quality of one's life depends on its simplicity. 
https://www.pinterest.com/lmadair/sixlets/